Sister to Sister is seeking volunteers to make Teddy Bears to bring hope and comfort to children in times of crisis. Teddy bears are perfect for hiding little eyes from frightening sights and covering little ears from loud sirens or storm sounds. "A teddy bear provides a sense of comfort to kids. It gives them the opportunity to think, 'Hey, maybe this will be okay,'" said Dr. Jeanne Floerke, a pediatric psychologist at Rocky Mountain Pediatric Hospital for Children."
"Often what happens is first responders will show kids what's going to be done to them by demonstrating on the teddy bear, so kids find that soothing. They find it helpful," Floerke explained.
First responders carry stuffed animals with them to give to children as young as 2 years old, and even to teens in these high stress situations.
We are currently seeking volunteers to make Teddy Bears for the Santa Fe Fire Department and an orphanage in Peru. Any amount of bears you donate will be appreciated. If you or your group is interested in this project, please see the information below. Thank you for your willingness to serve!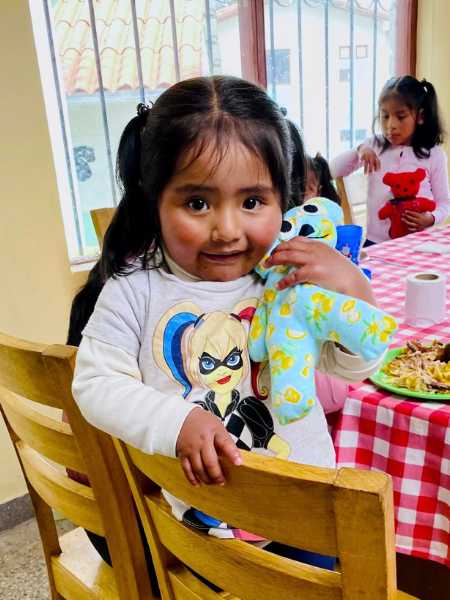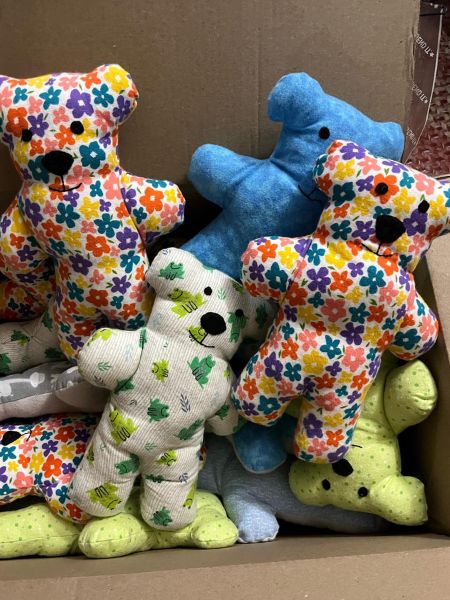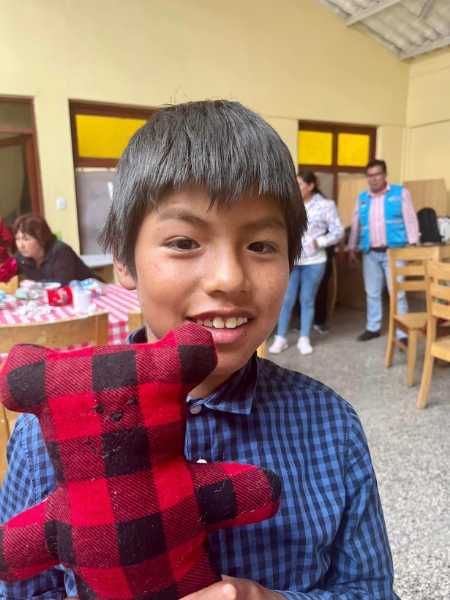 BEFORE YOU BEGIN:
Please use colorful and soft fabrics (such as, fleece, flannel, minky, knit etc).
Please DO NOT use buttons, markers, vinyl or anything that could create a choking hazard on the faces. Please DO NOT use French Knots on faces – they are not as secure.
Please DO NOT over or under stuff the bears, but fill them completely so the arms, ears and legs are filled.
When finished, please check all seams for holes and make sure all threads are clipped.
PATTERN INSTRUCTIONS
(please read instructions BEFORE beginning)
• Download and print pattern. It will print two 8.5"x11" pieces of paper – tape them together.
• After cutting the pattern out, it should measure approximately 13.5"x10.5".
• Place the right sides of the fabric together and trace pattern on the wrong side. (please do not use a sharpie as it will show through the fabric).
• Cut a rectangle or cut the general shape of the bear –you will be sewing directly on the line that you traced.
• Trim ¼" to ½" around bear.
• Using the pattern as a guide, trace the face on the bear with a fabric vanishing marker or pencil. You can hand or machine embroidery face – or you can appliqué small felt pieces on. Amazon also sells safety eyes and noses that are acceptable. The mouth will need to be hand sewn.
• Once again… Please DO NOT USE paint, sharpies, fabric markers, or buttons on the faces.
• Begin sewing at the bottom of the bear on the right leg on the line you traced. You will finish at the top of the right leg and this should leave you a 2"-3" opening where you can stuff the bear.
• Carefully clip all of the curved areas and corners (clipping every ¼" or so).
• Turn the bear right side out and stuff with polyfill start at one ear, then the other, then fill the head, arms, & legs. Please make sure all parts of the bear are filled and adjust ay polyfill as necessary. *Note – A 10lb box of ployfill should fill approximately 50 bears.
• Hand stitch the opening closed as neatly as possible using an invisible ladder stitch or slip stitch. Please hide all knots on the inside.
*Please take a moment to post a picture of your bears on our Sister to Sister (non-profit) Facebook group.
These tags can be printed and either tied or safety pinned to your projects.
Mail to:
Sister to Sister
488 River Meadow Drive Alpine, UT 84004
Please include inside box:
YOUR NAME
EMAIL
WHO MADE THESE ITEMS
NUMBER OF BEARS YOU ARE DONATING
*Please email or contact us on Facebook if you have any questions. We will contact you to let you know where your bears were sent. Thank you so much for your kind and charitable donation.